Warrenton firm installs solar system on Clatsop County building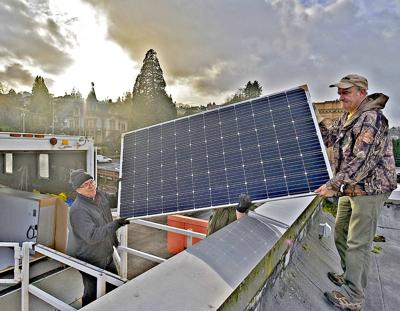 ASTORIA — Precision Heating & Indoor Air Quality of Warrenton took advantage of good weather earlier this week to install a solar-power panel array on the roof of the Judge Guy Boyington Building in downtown Astoria.
Clatsop County said in a Jan. 17 press release that the installation is a sign of the county's commitment to renewable energy.
The project was sponsored by the electricity utility Pacific Power in recognition of the county's efforts on behalf of clean energy through the company's Blue Sky Challenge, the county said.
The solar array, consisting of 45 panels, is expected to generate up to 15 kilowatts of energy for the Boyington building, which serves as the meeting space for the Board of Commissioners and other bodies, as well as the secure ballot-counting site for the county Elections Division.
Pacific Power provided a $30,000 grant for the installation, which was performed by Precision Heating's Stan Tussing and his crew.
The Board of Commissioners voted in March 2017 to join the Blue Sky Challenge, an initiative of Pacific Power to promote renewable energy use by local power customers, followed by the cities of Astoria, Cannon Beach, Gearhart, Seaside and Warrenton. Blue Sky is a voluntary program that provides Pacific Power customers the opportunity to support newly developed energy now and help build a larger market for renewable energy.
More than 900 residential and business customers in Clatsop County signed up for Blue Sky, nearly double the local goal of 500 sign-ups. Those results earned the county recognition by the U.S. Environmental Protection Agency, which named it the first county in Oregon and only the second in the United States to join its Green Power Partnership.